Using essential oils in the bath is a wonderful way to experience their benefits. It can help relax the mind and body, ease muscle soreness, relieve sinus or respiratory congestion, and much more.
Why Use Essential Oils in a Bath?
Adding essential oils into a bath is a popular way to extract their botanical benefits because the combination of aromatherapy and topical application positively impacts body, mind, and spirit.
But, as always with essential oils, there are recommended ways to use them safely.
Safe Ways to Add Essential Oils into the Bath
The number one thing to remember when using essential oils in the bath is to dilute them before use. Never add essential oils directly to the bath or your skin.
For use in the tub, you may dilute your oils with a carrier oil, soap, milk, or bath salts.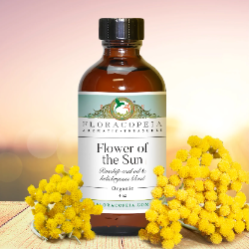 CARRIER OIL
This method is moisturizing for your skin, and great for the winter months. Just be careful when getting in and out of the bath! It can get slippery. When you're in the bath, you can smooth the floating oil over your skin. Or, you can apply the aromatherapeutic carrier oil to your skin before the bath.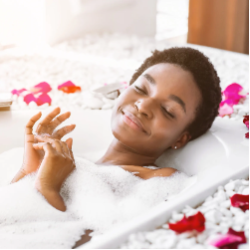 BUBBLE BATH
For a bubble bath, we like to use the method above (combining your essential oil with a carrier oil), then add that to your soap.
Select your favorite liquid soap and mix in your essential oil-infused carrier oil. Pour the soap under the running water for maximum bubbles.
Be sure to rinse afterward to remove any residual soap that can dry your skin out long after your bath.
BATH SALTS
Adding salts to your bathwater can be very therapeutic for sore muscles and aches and pains. Step it up with soothing essential oils!
Measure out 2 cups of Epsom Salt, and add 15-20 drops of a relaxing, muscle-soothing oil, such as lavender.
Mix well, and add right before you step into the bath.
What to Avoid When Using Essential Oils in the Bath
As mentioned before, there are a few things you should watch out for when using essential oils in the bath.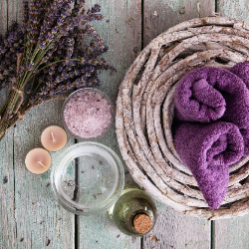 SELECT YOUR OILS CAREFULLY
Not all oils work well in a bath. Some degrade mucous membranes and can irritate the skin— including mints like wintergreen, peppermint, and eucalyptus.
Always choose an oil that's recommended for topical application, and specifically, baths. Lavender, Chamomile, and Frankincense are all good choices.
AVOID DIRECT APPLICATION
Once again, never apply essential oils directly to your skin or the bathwater. Always use carrier oil or bath salts to help dilute the oil.
USE CARE WHEN USING A CARRIER OIL
The bathtub can get slippery if you add carrier oil, so be careful getting in and out! Wipe down the tub immediately after your water drains to avoid slipperiness.
AFTERBATH SUNCARE
Some essential oils, like the citrus family, should not be used before going into the sun because of their phototoxicity. Always use sunscreen outdoors, and avoid topically applying phototoxic oils before spending time in the sun.
Recipes for an Aromatherapeutic Bath
Now that we've taken care of the precautions, let's take a look at some wonderful combinations and recipes for a therapeutic bathtime.
SORE MUSCLE SOAK
This delightful soak will ease sore muscles, improve circulation, evoke relaxation, and reduce inflammation… plus, these essential oils are wonderfully nourishing for your skin.
Try mixing this combination together, then pouring it into the bathtub:
JOYFUL BUBBLE BASK
Bask in warmth and joy with this bubbly concoction...
Select your favorite liquid soap and add 12 drops of Shine Essential Oil Blend (an aromatic combination of sweet orange, bergamot, and rose geranium). Mix well.
For a truly luxurious experience, consider Golden Beauty Body Wash as your liquid soap, which has lavender, ylang-ylang, helichrysum, and other wondrous skin-beautifying ingredients.
PRE-SOAK HYDRATION TREATMENT
This skin-soothing oil smells heavenly, with hints of resinous, earthy frankincense, and herbal, floral lavender. When combined with jojoba oil, these oils are powerful skin nourishers. This blend can be used pre-bath, but also for massage or regular skincare, to hydrate and nourish anytime.
Mix the carrier oil and essential oils well, and apply to your skin before entering the bath.
SUBMERGED JOINT & MUSCLE MASSAGE
Soaking in a warm bath relaxes muscles, and helps relieve tension that keeps them tight. Go a step further by adding in a carrier oil and a few potent relaxation oils, and massage your joints and muscles while soaking.
At Floracopeia, we only bring you organic, ethically sourced, fresh botanicals, to encourage nature-based health routines. We hope you enjoy these recipes, knowing that the ingredients you select are not only the healthiest options for you — they also provide environmental, social, and economic benefits to the communities where they're grown, harvested, and distilled...
Because you should feel great about your YOU routine!