Are you looking for a multifaceted essential oil that does it all — from easing indigestion, to helping you drift off to sleep, to tightening pores and reducing acne?
We're excited to share our newest special release, Black Juniper Essential Oil, a true botanical treasure that harnesses the natural healing properties of the black juniper leaf.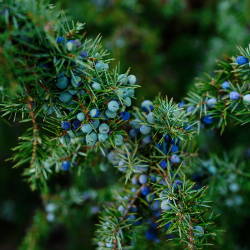 Black Juniper or Juniperus indica is a juniper native to high-altitude climates in Bhutan.
Its medicinal profile is closest to typical Bhutanese Juniper, but Black Juniper's scent is more balanced, pleasant, and refined.
It's gathered from a sustainable community forest in Bhutan — and we're honored to work with suppliers and distillers that invest in their local economies.
This multifaceted oil can be used as a boost to your everyday skincare and haircare routine, or as a supplement to shake sleepiness and ease indigestion.
Check out Black Juniper Essential Oil's variety of benefits below, and try out our blends and recipes to make the most of this special-release essential oil!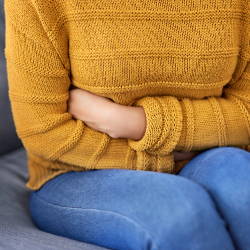 The potent aroma and medicinal properties of black juniper make it an ideal digestive aid, as it relieves abdominal discomfort and improves digestion.
To make the most of Black Juniper's digestion aiding properties, create the following stomach relieving blend:
Combine in small bowl:
2-3 drops of Black Juniper Essential Oil
2-3 drops of Peppermint Essential Oil
2 teaspoons of warmed carrier oil (like Jojoba or Argan oil)
Mix together and massage gently into the abdomen, using the remaining amount for direct palm inhalation.
This mixture will help to relieve tension in the abdominal muscles and stimulate movement in the bowels, relieving indigestion and bloating.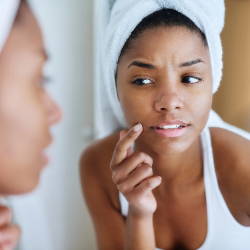 Black Juniper Essential Oil works to both tone and hydrate the skin, making it an incredibly versatile and effective skincare supplement.
Adding a few drops of Black Juniper to your everyday shampoo can help hydrate the scalp and reduce irritation associated with dandruff and flaky skin.
Black Juniper also works as an astringent, cleaning and evening the skin.
Sleep Aid and Anti-Stress
Known as the "Oil of the Night," Black Juniper Essential Oil is ideal for winding-down and promoting deep, restful sleep. It has even been said to help those with chronic nightmares or night terrors, working to release tension stored in the subconscious mind.
For a soothing remedy for anxiety and restlessness, try the following recipe: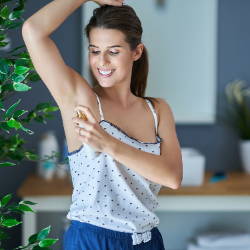 Black Juniper Essential Oil is a powerful antimicrobial and antifungal to have in your home pharmacy. Recent studies found juniper to be an effective deterrent against 16 different types of bacteria, yeast, and fungi.
Use it to clean surfaces in the home and remove built up odors, or as a key ingredient in natural deodorant.
To make your own all-natural, bacteria-fighting deodorant, follow the recipe below:
¼ cup of witch hazel
½ cup distilled water
1 tsp baking soda
3 drops of Black Juniper Essential Oil
3 drops of Frankincense Essential Oil, Serrata
3 drops of Wild Verbena Leaf Essential Oil
Blend together and place into a spray bottle. Spray onto underarms in the morning and throughout the day, depending on your physical activity and perspiration levels.
Our essential oils are organic — either wildcrafted and collected from healthy ecosystems or organically grown. You'll always receive the highest quality essential oils to promote organic, sustainable health.
Additionally, with every Floracopeia purchase you're directly supporting sustainable economic and environmental benefits for the communities we source from — we're proud to say Black Juniper gives back to the Bhutanese community that harvests it.
We're thrilled to be able to bring you this rare, ethically sourced essential oil. With its precious, hard-to-find properties, Black Juniper Essential Oil won't be in stock for long — add it to your collection today!