Lavender is perhaps the most familiar of essential oils. And for good reason! It can help reduce stress and anxiety, soothe skin irritations, relax the mind, and promote feelings of contentment and peace.
And of course, it's long been celebrated for its sleep-enhancing properties.
There are many varieties of lavender to choose from, each with its own spin on the benefits listed above.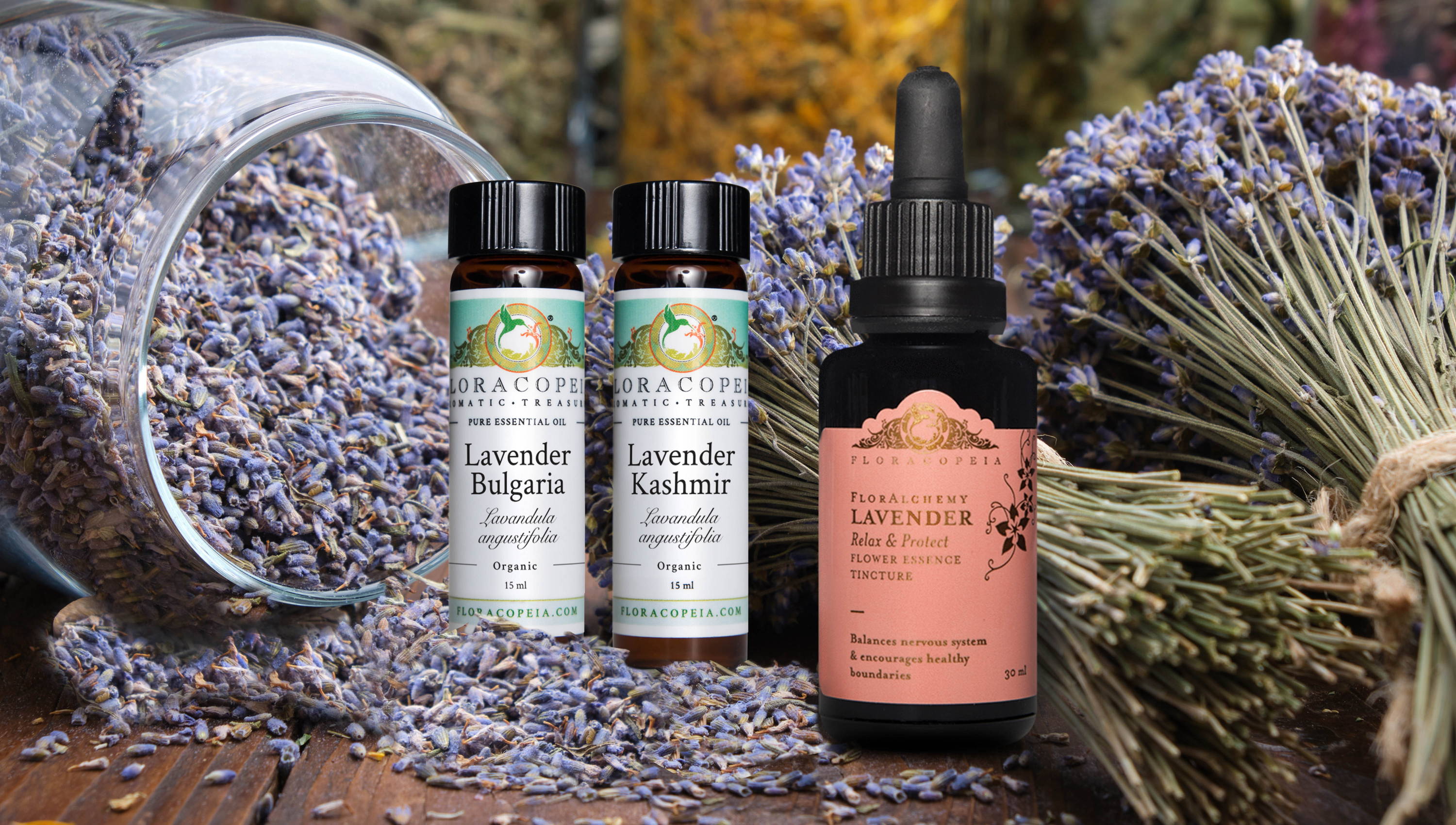 Lavender Kashmir has a light, sweet and herbaceous aroma, rivaling French lavenders. It's grown in high-altitude Himalayan foothills, and produces a soothing oil that is cooling, relaxing, and uplifting. This gentle lavender replaces agitation, irritability, and short-tempers with positive moods and patience, cooling the physical and emotional body.
Lavender Bulgaria is an aromatic blend of four varieties of lavender, making it perfectly suited for scent blending and fragrant pleasures. It is strongly therapeutic, easing stress, worry, and tension, and promoting a relaxed disposition for rest and sleep.
Lavender Flower Essence Tincture is a blend of flower essences that can be taken internally (unlike essential oil of lavender). It simultaneously calms and uplifts the body and mind, and supports the nervous system and digestive tract. Purifying and soothing, it eases feelings of stress and agitation, especially those associated with women's cycles. It is a gentle relaxant that can promote feelings of wellbeing and sleep.
And speaking of sleep…
Let's look at some delightfully restful recipes to promote health, happiness, relaxation, and sleep.
Lavender essential oil can be diffused, used in a carrier oil, inhaled from the palms, added to salt for a bath, or used on pulse points for a perfume.
(While lavender essential oil should not be taken internally, lavender flower tincture is safe to ingest.)
Check out the recipes below to add lavender into your evening routine for better rest and sweet dreams.
DAY-TO-NIGHT PERFUME
It's much easier to rest well at night when your day has been a breeze. Try this day-to-night perfume blend to promote relaxation throughout the day, so your mind is ready for sleep at night.
Add 6 drops of

Lavender bulgaria

and 4 drops of

Bergamot Essential

to a half-ounce of

Jojoba Carrier Oil

Apply to pulse points, like wrist, and neck

Inhale deeply to enjoy an uplifting and calming experience, applying more throughout the day whenever it fades
For a quick meditative reset, add a few drops to your palms, run them together, and bring them to your face. Take 5-8 deep breaths to reset emotionally and mentally.
SKIN & SOUL-SOOTHING NIGHTTIME BATH
For a deliciously scented sleep-enhancing experience, try this luxurious blend to soothe your skin and your soul.
Add 6 drops of lavender and 4 drops of

Blue Chamomile

to a cup of sea salt or milk.

Draw a warm bath, adding the cup of sea salt.

Climb in and stay awhile. Inhale deeply. Enjoy deep relaxation and the return of luster to your skin
MEDITATIVE MASSAGE MIX
Add 3 drops of lavender and 3 drops of

Night Blooming Jasmine

to a half ounce of

Argan Oil

.

Massage hands, feet, calves, forearms, shoulders, and neck

Take several deep breaths to promote a relaxed, meditative state before sleep

Wake up well-rested, with silky smooth skin
TWILIGHT TEA TINCTURE
Boil a cup of water

Pour over chamomile tea (or your favorite sleepy time tea. Avoid caffeine.)

Add 3-5 drops of

Lavender Flower Essence Tincture

for relaxation and emotional balance (do not add essential oil!)

Sip and settle into serenity
THE SCENT OF DREAMS
Add 6 drops of

Lavender bulgaria Essential Oil

and 4 drops of

Dream Essential Oil Blend

to a half-ounce of

Jojoba Carrier Oil

Apply to pulse points, like wrist, and neck, or use as a gentle massage oil

Inhale deeply for several breaths before bed (Or, use this blend in your diffuser by leaving out the carrier oil in Step 1).
We've all had those nights when we can't seem to relax, turn our minds off, and settle into the deep sleep we're craving. But with the right botanicals, sleep isn't far away. Lavender is an ideal sleep-supporting tool and can be used in a myriad of ways.
We want you to look forward to bed, with luscious scents, a positive mindset, a relaxed body, and a soul that's at ease.
From now through Sunday, March 27, 2022, enjoy 20% off ALL sleep essentials during our sleep sale! Just enter the code SweetDreams20 at checkout.