Respiratory issues are common during the wintertime — including coughs, congestion, and sinus infections, plus other immune system attacks like the flu and colds.
Protecting ourselves and our families from illnesses and recuperating quickly is always top of mind.
Essential oils are natural, organic alternatives for soothing discomforts and illnesses. But are they effective for respiratory and immunity issues?
Let's take a look at what the science says.
Do Essential Oils Really Work?
Essential oils come from plants. Many are common and still grow wild. Plus, they've been used for centuries, which prompts the question, Hasn't modern medicine surpassed the abilities of these age-old, nature-based therapies?
You may be surprised that the effectiveness of essential oils has been proven in many scientific studies throughout the last decades.
For instance, Johns Hopkins Medicine points out that aromatherapy with essential oils has a direct and positive effect on the brain. And that the absorption of essential oils through the skin can ease muscles and joints.
Numerous studies on the medicinal and therapeutic properties of essential oils remind us that plants have immune systems, too — and when we experience concentrated doses of plants through their essential oils, we're benefiting from their immune systems.
More specifically, due to their antimicrobial and anti-inflammatory potency, they offer effective treatment in respiratory tract infections (RTIs).
Today we're sharing two powerful tree oils for your winter immunity boost: Palo Santo Essential Oil and Eucalyptus Essential Oil.
Two Essential Oils to Support Healthy Respiratory Systems
While there are many essential oils with antimicrobial properties, today we'll focus on Palo Santo and Eucalyptus, specifically for winter wellness care. These oils offer support for respiratory wellness, relieving coughs, opening up airways, and fighting off respiratory infections.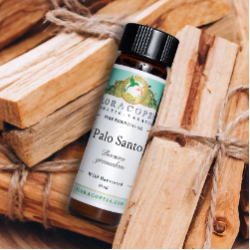 PALO SANTO
Palo Santo wood has been burned for centuries for meditation, sacred ceremony, and to cleanse and purify the air. Our ancestors knew about its benefits long before scientific methods would prove them. This powerful essential oil produces far more than spiritual ambiance — it's high in terpenes, including limonene, making it a valuable botanical for overall wellbeing.

Healthline states that limonene "has been shown to possess anti-inflammatory, antioxidant, anti-stress, and possibly disease-preventing properties". Palo Santo Essential Oil has high amounts of limonene, therefore, the oil has great healing potential, as confirmed by this scientific study on ResearchGate that noted its "remarkable antimicrobial activity."
Palo Santo is also known to have meditative emotional benefits, plus it uplifts the spirit, balances emotions, and induces creativity.
With its soft, sweet scent, Palo Santo Essential Oil blends beautifully with other wood oils like cedarwood, sandalwood, and cypress. For a floral note, try adding jasmine. Blend with grapefruit for a sweet citrus experience.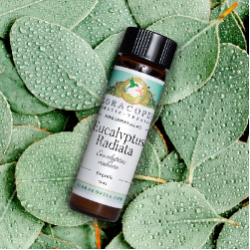 EUCALYPTUS
Known as one of the most therapeutically diverse essential oils, Eucalyptus Essential Oil, Radiata is cleansing, uplifting, and energizing. And it may not be a surprise by now — it's a powerful antimicrobial.
With a crisp, clean, cooling scent, Eucalyptus blends well with Frankincense Essential Oil, Occulta, Cedar Essential Oil, and Piñon Pine Essential Oil. It's an illness-fighting addition to any blend.
We love this statement about Eucalyptus from a Scientific African article found on Science Direct:
"Several bioactivities such as antioxidant, antimicrobial, insecticide, antibacterial and fungicide effects have also been observed for Essential Oils (EOs) produced by eucalyptus. Antimicrobial…activities associated with EOs from leaves of Eucalyptus have been reported in several articles every year, demonstrating the importance of this research field."
As more research comes forth, the botanical knowledge passed down through centuries is now scientifically proven.
How to Use Essential Oils for Coughs, Congestion, and Respiratory Illnesses
Now that we know how powerful these extracts are, how can we use the valuable plant oils to protect us from illnesses, promote wellbeing, and soothe common symptoms of winter sicknesses?
FOR BREATH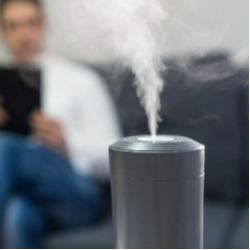 Diffuse
Diffusing these oils helps purify the air, which is exceptionally important for families and office spaces that see an exchange of people.
Diffused essential oils can knock down the airborne spread of illnesses, and support your personal respiratory health. Consider adding a drop or two of Breathe Essential Oil Blend for powerful lung support, or Grapefruit Essential Oil, Red for a sweet, delightful, aromatherapy experience.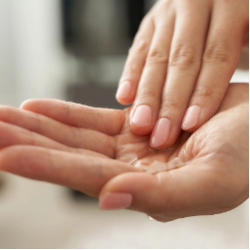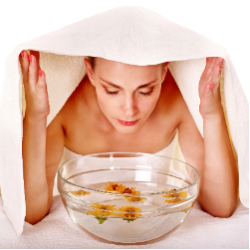 Respiratory Facial Steam
Palo Santo Essential Oil can be used in an airway opening facial steam.
Add to steaming water and inhale deeply for several minutes. This will help add moisture to the airways, open up the lungs, relieve congestion and coughing, and has the added benefit of opening up your pores for a healthy detox. (In fact, to do double duty, add a skin-enhancing oil like
Frankincense Essential Oil, Occulta, which also has potent immunity and respiratory support properties.)
(Please note: we don't advise using Eucalyptus oil for a facial steam because it has the potential to irritate the eyes.)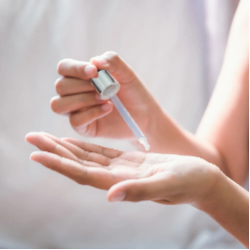 Quick Fix
When you're on the run without a diffuser or spray bottle, you can still open your airways and get some solid breath support when you add a drop or two of Palo Santo Essential Oil or Eucalyptus Essential Oil to your palm. Rub your hands together, place them over your nose and mouth, and inhale deeply to soothe your cold, flu, or sinus symptoms.
FOR IMMUNITY
These techniques use essential oils known for purifying surfaces and the air for healthy, immunity boosting routines.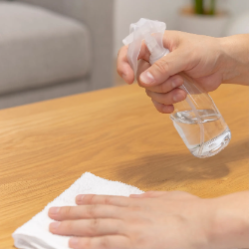 Surface Cleanser
Add 1 part water, 1 part vinegar, and several drops of Palo Santo Essential Oil or Eucalyptus Essential Oil to a spray bottle. Shake well and spray liberally on commonly used surfaces to organically reduce the spread of surface germs. Consider adding Lemon Essential Oil for additional cleaning power and a delightful citrusy fragrance.

Air Spritz
This air spritz is portable, so you can spritz every room of your house! Add several drops to water in a spray bottle. The mist should be fine, so the particles are light and can disperse throughout the air. Shake well and spritz all around your office space or home. Try adding Legends Protection Blend for a purification mist that cleans the air, and adds a touch of herbaceousness and spice.
Wellness Solutions You Can Feel Good About
At Floracopeia, we believe in the power of nature's protection! Our oils are always organic, ethically sourced, and responsibly produced. We strive to provide environmental, social, and economic benefits to the communities and ecosystems where our botanicals are grown, harvested, and distilled, so you can feel good about your health routine when you use your favorite Floracopeia products.
And right now, you can feel even better — because we're having a Respiratory & Immunity-boosting Sale!
You'll receive 20% off our Palo Santo Essential Oil and Eucalyptus Essential Oil (and all of our respiratory and immune-boosting oils) when you use the code Protect20 at checkout through January 24, 2022.