Isn't it amazing how the earth provides us botanicals for all our needs?
From increasing our energy to helping us sleep; to moisturizing our skin or our hair; to easing overactive minds, and calming emotions...
It even provides healing botanicals that can help relieve pain and inflammation in our physical bodies.
Floracopeia's Two Treasures Collection is a powerful combination of nature's best body comforters for acute and chronic pain. They come from distillers in the Himalayas who are dedicated to keeping healing traditions alive — by making the healing wisdom of these plants accessible in our modern lives.
Three Nectars: Quick Relief for Acute Pain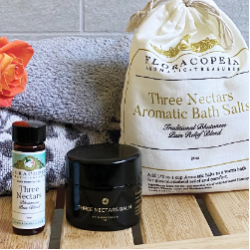 A traditional Tibetan and Bhutanese formula called Five Nectars was historically used in herbal soaking baths for treating pain and inflammation, specifically of a musculoskeletal nature.
Three of those ingredients are aromatic plants that we now can distill — producing potent, healing essential oils. We've pulled these three essential oils into our own modern-day rendition of the Five Nectars healing concoction, Three Nectars Balm.
The Three Nectars Balm blends Bhutanese Juniper, Rhododendron essential oil, and a new essential oil that's never been distilled before, Tibetan Tansy. This significant medicinal botanical only grows in two places in the world. Because of Tibetan Tansy's rarity, harvesting is regulated by the Bhutanese government — so we're very fortunate to have access to this powerful medical oil.
This therapeutic trio is also available as a blended essential oil and Aromatic Bath Salts.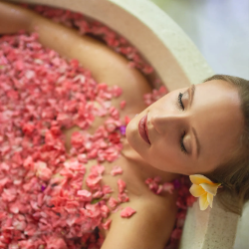 We've combined the wild-harvested essential oils of Himalayan Juniper, Tibetan Tansy, and Rhododendron with creamy Nilotica Shea to create a powerful, moisturizing, pain-relieving balm that can be applied directly
to the skin.
Camphoraceous, coniferous, and menthol notes hang softly above the sweet base of Nilotica Shea butter. By aiding joint and muscle functions, these botanicals help circulation and relieve acute pain on the spot (literally!).
Boswellic Balm: Long Term, Chronic Pain Relief
Our Boswellic Balm, created using an extract of Frankincense papyrifera resin that's naturally high in boswellic acid, is superior for treating inflammation that causes chronic pain.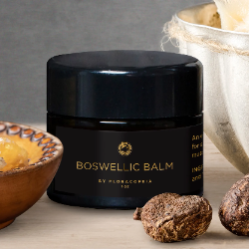 Boswellic Acid is a compound that gives frankincense its many therapeutic properties, but is most remarkable for its anti-inflammatory abilities. While most acids are extracted from Serrata, this unique frankincense resin has significantly higher boswellic acid than other frankincense species. This naturally extracted boswellic acid is unique to Floracopeia, because Boswellic compounds stay in the resin, and cannot be made into essential oils. Our founder David Crow refers to this balm as a
"Frankincense Resin Salve'' because the actual Boswellic Papyrifera Frankincense resin is diluted into a salve, making up 20% of our Boswellic Balm. That's why this balm is unmatched in therapeutic properties.
BOSWELLIC BALM SCENT
This unique balm combines the skin-soothing benefits of frankincense with the incredible anti-inflammatory action of boswellic acid, and is placed in a base of creamy Nilotica Shea Butter. Lightly scented with a hint of Shea Butter and sweet, citrusy, floral frankincense, the fragrance is subtle. Consider adding your own frankincense essential oil, or other skin-loving oils for a light perfume, as it can serve as a gentle base.
How to Use Two Treasures for Safe, Effective Pain Relief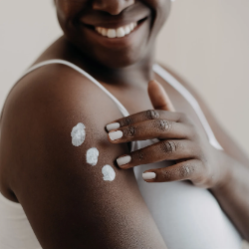 These powerful — yet gentle — balms can be used to fight inflammatory skin conditions and joint and muscle pain, whether chronic or acute, and can be used on their own or together to ease discomfort and relieve inflammation.
Each balm can be used directly on the skin (and make great moisturizers as well!). These anti-inflammatory balms can soothe sore joints, inflammatory skin conditions like psoriasis, soft tissue
injuries with swelling, and a number of skin and joint conditions that are of inflammatory nature.
THREE NECTARS: ACUTE PAIN
This medicinal herbal trio forms a powerful pain relief blend that comes from its superior ability to support energy channels.
Apply directly to your skin where the pain occurs. Because this lovely balm is in a base of soft, creamy Nilotica Shea Butter, it absorbs quickly for fast relief of musculoskeletal discomfort.
BOSWELLIC BALM: CHRONIC PAIN
Boswellic Balm can be helpful in treating chronic pain. Simply apply the creamy balm to your skin, joints, and muscles 3-4 times daily to begin to ease long-term pain.
Boswellic Acid is known to be detoxifying because it helps to move and purify the blood. Over time, this can relieve built-up inflammation and blood stagnation to help reduce chronic discomfort.
It can also be used regularly for:
Psoriasis

Excema

Musculoskeletal inflammation

Shingles

Post-herpetic pain

Sciatica

Osteoarthritis
IN COMBINATION:
Using a combination of these pain-relievers is a safe way to comfort the body, reduce inflammation, and improve musculoskeletal and dermal health. In homage to the Five Nectars Blend of the past, Three Nectars comes in pain-relieving bath salts. In a nod to modernity, it is available in a blended essential oil as well.
If you experience chronic aches and pains, as well as acute pain from time to time, we recommend this routine, using Two Treasures and additional Three Nectars Products:
In the morning, rub

Boswellic Balm

on any joints, muscles, or skin that experience inflammation regularly, including psoriasis or arthritic pains.

When you experience unique or acute pains, use

Three Nectars Balm

directly on the skin near the pain. This is best for musculoskeletal pains and inflammation.

Use

Three Nectars Essential Oil Blend

, blended with jojoba oil when pain is localized.

In the evening, draw a bath, and use a cup of

Three Nectars Aromatic Bath Salts

. Soak for 30 minutes or more. This will nourish and cleanse the skin, while offering a healing essence to your joints and muscles.

Apply Boswellic Balm to chronically inflamed and aching joints, muscles, or skin after your bath. (If this is very common and painful, consider another application midday)
These are two very special, unique, and effective pain-relieving recipes that can address a range of discomforts associated with inflammation. Wildcrafted and sustainably sourced, we're always proud to bring you the highest quality, and most ethical solutions for natural, organic, everyday living.
You'll save 20% when you purchase our Two Treasures Comfort Collection instead of buying the two balms separately.