5 Steps to Fall Into Your Autumn Skincare Routine
Sep 21, 2022
Just as green leaves turn to shades of yellow and brown, your skin changes with the seasons as well.
Your Summer-acclimated skin can begin feeling drier, flakier, more irritated, and dull – making it the perfect time to turn over a new leaf (in life and in skincare)!
Today we're sharing five essential steps to ease your skin into the cooler, crisper Autumn weather, so you can enjoy the highlights of fall without thinking twice about the state of your skin.

Step 1: Update your Moisturizer
With cooler temperatures and lower humidity, the lightweight moisturizers that carried your skin through the Summer months will need a heavy-duty update – but choosing a thicker moisturizer doesn't mean giving up on refreshing, botanical-powered moisture! Below are some of our moisturizing offerings to keep your skin hydrated and supple!
Immortelle Perfecting Crème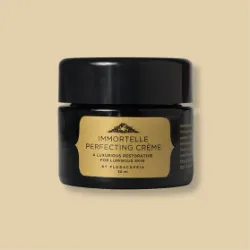 Our luxurious Immortelle Perfecting Crème brilliantly restores a soft, supple, and luminous complexion. It effectively activates deep rejuvenation by way of many revered skin allies including Corsican immortelle, blue tansy, and frankincense. Precious plant oils successfully stimulate collagen and elastin production, reduce redness and irritation, and enhance the overall quality and radiance of the skin.

Argan Carrier Oil
Argan oil is a supremely moisturizing, nourishing, and nutrient-rich oil that is easily absorbed by the skin and hair. It is prized in the beauty industry for its ability to smooth and restore dull, dry skin, and damaged, lifeless hair. A head-to-toe multi-tasker, the same bottle restores moisture to your skin and hair.
Skin Charm Facial Crème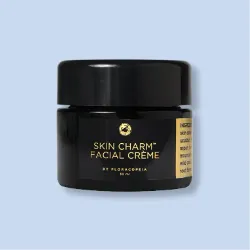 Skin Charm™ Facial Crème is rich in plant constituents and phytosterols shown to harmonize skin lipids and quench dehydrated skin. It fortifies the skin's collagen and elastin network and brightens the complexion to remedy spots, discoloration, and hyperpigmentation for improved luminosity and glow. Nutrient-dense plant butters offer protective deep moisture and antioxidant support to shield the skin from transdermal water loss and environmental damage.

Step 2: Exfoliate, Exfoliate, Exfoliate!
In the drier weather, you need to keep an eye out for dead skin cells building up, as too much dead skin will clog your pores. While over-exfoliation can lead to irritated skin, exfoliating 2-3x a week with gentle products can leave your skin cleaner, clearer, and more luminous!
Make Your Own Simply DIY Facial Exfoliator!
In a wide-mouthed glass container combine:
1 cup sugar
½ cup Jojoba Carrier Oil
3 drops Rosemary Essential Oil
3 drops Lavender Kashmir Essential Oil
Test a small amount of mixture on the skin to see if any irritation occurs. If the skin receives the exfoliator well, apply to wet skin in gentle circular motions and let sit for 1-2 minutes. Rinse thoroughly and follow with a gentle moisturizer.

Step 3: Show Your Body Some Love Too!
The face gets all the attention in skincare routines, but don't forget about your body! When hot Summer days turn into chilly Autumn afternoons, your body often needs an extra burst of hydration.
After stepping out of the shower, while your skin is still damp, apply a generous amount of lotion to your body, putting extra attention on your elbows, knees, hands, and feet – as they are often the most sensitive skin on your body.
Three Nectars Balm
Three Nectars Balm is a unique topical salve featuring a traditional Bhutanese formula for pain relief. Creamy unrefined Nilotica Shea butter from East Africa cradles a powerful blend of Bhutanese essential oils. Medicinal, yet with extremely pleasant aromas, this balm provides fast-acting pain relief for inflamed joints and muscles.

Boswellic Balm
Boswellic Balm is a unique topical salve to ease pain and inflammation while nourishing your skin. It contains Frankincense papyrifera extract that's rich in boswellic acid — along with creamy, sweet, unrefined Nilotica Shea butter from East Africa.

Radiant Rose Body Serum
Envelop your skin in our supremely sensuous rose body oil serum devoted to reveal inner and outer beauty. Our Radiant Rose Body Serum encourages soft, radiant, and alluring skin while nourishing the emotional heart. Precious and pure organic Bulgarian Rose, adorned with luxurious plant oils, make our body oil serum the ultimate skin solution & beautifier.

Step 4: Incorporate Facial Tools
Incorporating facial massages into your daily skincare routine is the perfect way to keep your skin tight and rejuvenated throughout the seasons – protecting against the drying effects of Autumn weather which age your skin.
Our Ayurvedic Facial Rejuvenation Tool is a powerful addition to your skincare ritual.
Bronze has many healing qualities that make it very effective for facial rejuvenation purposes. Often called the 'healing metal,' it first appeared about 5000 years ago and was created by peoples in the Indus Valley, contributing to the traditional medical system of Ayurveda.
When used for facial massage, bronze has powerful effects for enhancing both the health and beauty of the skin. By working the tool into each step of the massage, you will come out with tighter, brighter skin!

Step 5: Prioritize Consistency
Even the most luxurious, intensive products will yield minimal results if used inconsistently. The key to maintaining your skin's health in the transition from Summer to Autumn is to create a routine that is effective and manageable.
Combining Floracopeia's all-natural, organic skin-boosting products with a dedicated system is a foolproof way to ensure that your skin looks its best all year round.
Welcome Autumn, and welcome healthy, nourished skin!
Stay connected with news and updates!

Join our mailing list to receive the latest news and updates from our team.
Plus — when you sign up for our mailing list right now, you'll receive a free copy of
David's eBook Aromatic Intelligence: The Healing Power of Essential Oils.


We hate SPAM. We will never sell your information, for any reason.