Protect & Restore Your Skin & Hair With These DIY Spring Recipes
Apr 28, 2022
Spring is here, and summer is on its way.
And after a few years of social distancing and what feels like hibernation, we're finally ready to get back out into the world again!
But are your skin and hair ready?
Below are a few indulgent (but simple!) recipes your skin and hair will thank you for — especially once you're out in the Springtime elements.
The best thing? These recipes all feature the powerful duo of Blue Chamomile Essential Oil and Helichrysum Essential Oil, two mighty essential oils with superpowers for your skin and hair this spring.

Blue Chamomile to Keep Skin, Hair & Spirit

Balanced & Healthy
Floracopeia's blue chamomile oil, with its deep blue hue and exceptional aromatic profile, is derived from organic chamomile flowers cultivated in Nepal. This gentle oil is a cousin to the daisy and has been used since ancient times for medicinal purposes.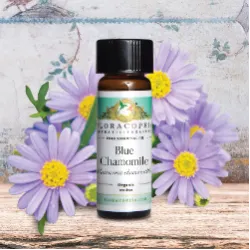 While you might first be drawn in by its remarkable hue and scent, its list of therapeutic properties is impressive:
Enhances a healthy inflammatory response
Supports healthy joint function
Promotes relaxation
Supports deep, restful sleep
Encourages feelings of well-being and satisfaction
Nourishes and restores skin oil balance
Adds luster and shine to hair
Add this single oil to your apothecary this spring to keep your skin, hair, and spirit balanced and healthy.

Helichrysum, Skincare's #1 Therapeutic Oil
Organic, wildcrafted helichrysum is also known as Immortelle, the French word for "everlasting."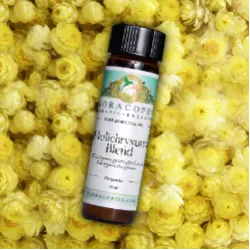 It's known to reduce fine lines, activate collagen production, and naturally nourish mature, oily, sensitive, or compromised skin — resulting in younger, firmer, and healthier skin.
No wonder everyone loves it!
Floracopeia sources only high-quality, organic helichrysum to create:
Our best-selling Helichrysum Essential Oil Blend
Honey-scented Helichrysum Essential Oil, Corsican
Precious and rare wild-harvested Helichrysum Essential Oil, Corsican, Wild

Using Blue Chamomile and Immortelle for Skin & Hair
Blue chamomile and helichrysum (immortelle) should not be taken internally but can be applied to the skin when diluted with carrier oil.
We love this cold-pressed, unrefined Argan Oil 4oz from a Moroccan women's cooperative for both skin and hair. Jojoba Carrier Oil is one of the most beloved moisturizing oils, as it mimics the nutrient profile of our skin's own oil. Flower of the Sun Essential Oil Blend is blessed with another skin-nourishing essential oil — helichrysum — to create an indulgent, fast-absorbing, skin-softening oil you'll love, for both your body and your face.

DIY Spring Skin & Hair Recipes

LUSTROUS LOCKS SPRITZ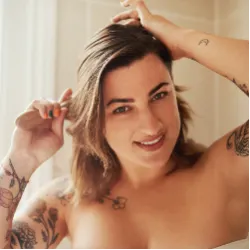 Have you been ignoring your hair over the past couple of years? You're certainly not alone!
To give your locks a boost of shine and luster, try this luxurious hair mask to restore moisture, smooth the hair shaft, prevent split ends, promote follicle growth, and add shine to your neglected 'do. Repeat every other week to maintain hair health and strength.
1 ounce of Argan Oil 4oz
3 drops of Chamomile Essential Oil, Blue
2 drops of Peppermint Essential Oil
2 drops of Rosemary Essential Oil, Verbenone
2 drops of Tea Tree Essential Oil, Australian
(Battling dandruff? Add 2 drops of Lemongrass Essential Oil and be sure to spray the scalp!)
Add your carrier oil and essential oils to a small spray bottle and top off with distilled, filtered water. Shake and spritz hair heavily, from roots to ends. Let it absorb into your hair for 2 hours before washing it out. (If you have a shower cap, it can help trap heat and expedite absorption, as well as keep any drips off of your clothing.)
Added bonus! For a quick, on-the-go, fly-away treatment, a quick shake of the bottle, and a spritz or two can tame flyaways and smooth hair. (Be sure to go light, to avoid weighted hair or oily roots.)

DIY HYDRATING FACIAL
We love this relaxing, meditative, restorative (for hair and soul!) facial. Spend just a few moments opening your pores and inhaling these therapeutic essential oils, and your skin and spirit will feel refreshed, uplifted, and rejuvenated.
Step 1:
Boil 2 to 3 cups of water, and add 1-2 drops each of:
Chamomile Essential Oil, Blue
Frankincense Essential Oil, Occulta
Lavender Essential Oil, Bulgaria
Step 2:
Place a towel over your head and lean over the bowl, effectively trapping the steam so it reaches your face. This will open up your pores.
Step 3:
After five minutes of your facial steam, very gently pat your skin dry. (It's okay if it's still a little moist.)
Add a drop of Chamomile Essential Oil, Blue, Frankincense Essential Oil, Occulta, and Helichrysum Essential Oil, Corsican, Cultivated to the Flower of the Sun Essential Oil Blend. Gently massage the mixture into your skin, in an upward direction. Smooth over neck and decollete.
This can be done weekly to plump and hydrate your skin, reduce fine lines and wrinkles, and treat your skin with healing botanicals that can fight inflammation, breakouts, and redness caused by irritation.
Plus, it's a lovely escape!

SMOOTH, SULTRY SKIN
Once spring hits, we're outside and soaking up the sun… and other environmental elements, like pollen, air pollution, and wind. And, on occasion, sweating.
It's quite a lot for our winter skin to handle!
That's why it's important to make sure you keep your skin clean and gently exfoliate to remove environmental debris that can cause irritation, redness, and breakouts. Plus, keeping our skin hydrated can improve skin health and protection to prevent irritation.
Luckily, Blue Chamomile is a great essential oil for overexposure to the sun, as well as healing irritation from the elements. And immortelle has significant testimony for its powerful healing properties and ability to soothe wounded skin.
So, after cleansing the spring from your skin, use this charming and restorative body hydration recipe daily to strengthen and protect your skin during springtime.
2 ounces of Jojoba Carrier Oil
4 drops of Frankincense Essential Oil, Occulta
2 drops of Helichrysum Essential Oil, Corsican, Cultivated
2 drops of Wild Lavender Essential Oil
1 drops of Chamomile Essential Oil, Blue

Spring Flash Sale For Your Best Skin & Hair Yet!
Great skin and hair care not only restores damage but can help prevent it. Dry hair breaks easier loses its luster and can retaliate with an irritated, imbalanced scalp that produces dandruff or gets overly oiled. Dry skin flakes easier, and has more trouble fighting off elemental irritants and healing from cuts, scratches, sunburns, and wounds.
These simple DIY recipes can help recover skin and hair health, and maintain it throughout the transition from winter to spring, preventing damage and irritation.
You can stay up-to-date on botanical information and learn how to incorporate essential oils into your everyday life by following our blogs at Floracopeia, but you can also schedule a consultation with David Crow, an expert in natural medicine, to get more personalized advice and deeper insights that can't be provided by our blog posts.
Stay connected with news and updates!

Join our mailing list to receive the latest news and updates from our team.
Plus — when you sign up for our mailing list right now, you'll receive a free copy of
David's eBook Aromatic Intelligence: The Healing Power of Essential Oils.


We hate SPAM. We will never sell your information, for any reason.