Have you tried this timeless Bhutanese formula for pain relief?
It's inspired by the Traditional Tibetan Medicinal bath therapy known as the Dutsi 5 Lums or 5 Nectars Bath.
The Dutsi Lum treats ailments by conquering the destructive energetic forces that bring us suffering.
Our Three Nectars Formula uses three of the five botanicals in the Dutsi Lum, to make it even safer and easier to add to your routine — and resulting in a relaxing, medicinal scent with a hint of floral:
Himalayan Juniper

—

this healing plant

represents the essence of the sun's rays that bring heat and warmth ("Nin")

Tibetan Tansy

represents the essence of the earth ("Sa")

Rhododendron

from Nepal to represent the essence of the grassland meadows ("sPang")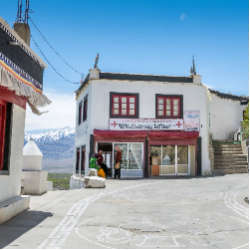 First used in Traditional Tibetan Hospitals, known as Sowa Rigpa — places where this healing science is practiced and shared — the Three Nectars formula is celebrated around the world for its superior ability to ease pain.
But did you know it brings ease to your life in several other ways, too? Our Three Nectars formula also supports healthier circulation, eases inflammation of the joints and muscles, and nourishes and clears the skin.
Bring the Three Nectars Trio Into Your Self-Care Routine
Now, accessing the healing powers of traditional Tibetan medicine for all-around health has never been easier. Check out the different ways you can experience the healing powers of these three nectars to enjoy healthier skin, circulation, joints, and more.
Apply our creamy

Three Nectars Balm

to your joints and massage gently, 3–4 times daily or as needed. This unique topical salve features the traditional Bhutanese formula brought to you with creamy unrefined Nilotica Shea butter from East Africa, cradled in a powerful blend of Bhutanese essential oils.

Use our

Three Nectars Essential Oil Blend

as the main ingredient in: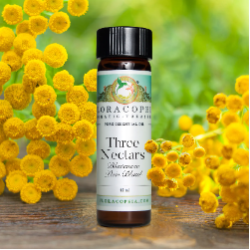 Massage Oil. This blend is extremely powerful and should be diluted to a 1 - 2% concentration before use — 6 - 12 drops of essential oil per ounce of carrier oil (You might try Jojoba Oil, perhaps the most universally loved carrier oil for the skin). Up to 10% dilution can be used for short periods of time on smaller areas for stronger pain relief.
Medicinal Bath. Use 10 - 15 drops of Three Nectars Blend per cup of salt, milk, or body wash and add directly to a warm bath.
Bath Bomb. Use 10 - 15 drops of Three Nectars Blend in your favorite bath bomb recipe.
Salve For Pain Relief. Add Three Nectars Blend in a 1 - 2% concentration with your favorite salve and rub into the joints as needed.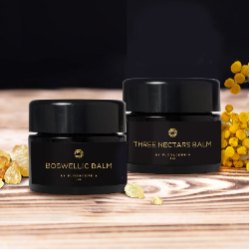 Experience fast-acting pain relief that lasts

with our

Two Treasures Comfort Collection

featuring our

Three Nectars Balm

AND our exclusive

Boswellic Balm

(a topical salve featuring

Frankincense papyrifera

to ease the underlying inflammation that's causing your pain, and

Frankincense Serrata to

soothe and nourish your skin).
Product Spotlight: Floracopeia's First-Ever Bath Salts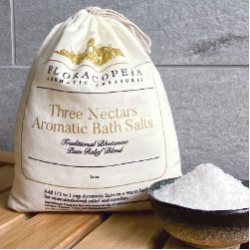 Our Three Nectars Aromatic Bath Salts invoke the pristine qualities of Himalayan hot springs — and transform ordinary bathwater into a healing nectar.
These bath salts provide musculoskeletal relief and comfort, while also nourishing and clearing the skin.
We've added our exclusive Three Nectars Blend to a superior, therapeutic grade salt, harvested from the southern Dead Sea in Israel, where the concentration of minerals is the highest.
The waters of the Dead Sea, the authentic source for this exceptional salt, are distinctly different from any other body of water, and this salt has a mineral composition and therapeutic benefits that are entirely its own.
To use: Add 1/2 to 1 cup of Three Nectars Aromatic Bath Salts directly to your warm bath and soak away your aches and pains.
Three Nectars Trio's Ethically Sourced Story
We know the story behind your products matters to you — we feel the same way! And we're proud of this superior pain relief blend that's both sustainable and ethically produced.
In 2013, the government announced its plan for Bhutan to become the first country in the world with 100 percent organic farming. Then in 2021, we had the privilege of joining forces with a small-scale distillery in Bhutan...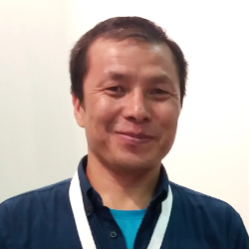 We're honored to partner with trailblazing, ethical distiller, Karma Tshetem, as he brings fresh, economic opportunities to Bhutan's local communities. Karma pays fair and equitable wages to the harvesters, who handpick Tibetan tansy flowers and prune juniper branches from remote Himalayan mountains and valleys…
Now this Three Nectars formula has made its way to you. Explore all our Three Nectars offerings here — and add your favorite to your self-care routine.