The Healing Oil: Ravensara Essential Oil to Ease Allergies, Coughs, Pain & More
May 08, 2022
Looking for an oil that can do it all? Meet Ravensara aromatica, a talented healing oil with an abundance of uses that's gentle enough for the whole family.
Boldly therapeutic, it's earned the nickname "The Oil That Heals."

What is Ravensara Aromatica?
Ravensara is a rare and beloved essential oil from the Laurel plant family in Madagascar. It's unsustainably and irresponsibly overharvested across Madagascar, unfortunately threatening the species and making it very rare and difficult to find.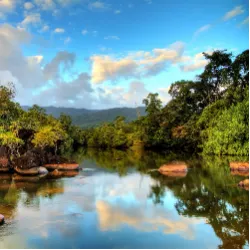 Also known colloquially as clove-nutmeg, it has a clean, camphorous, and slightly fruity aroma. Its aromatic profile is perhaps closest to eucalyptus, but ravensara's scent is more balanced, pleasant, and gentle.
This multifaceted essential oil is a powerhouse for a myriad of ailments. With its antiviral, antimicrobial, and pain-relieving properties, and its ability to support breath and reduce coughs, it's a comforting ally for holistic health.
Check out the variety of benefits below, with recipes to put ravensara to work for you and your family's year-round well-being.

Antimicrobial
Essential oils are incredible immune boosters because they are part of a plant's own immune system. Ravensara has impressive antimicrobial characteristics that can help fight microbes that cause infections and illness, like the flu and measles.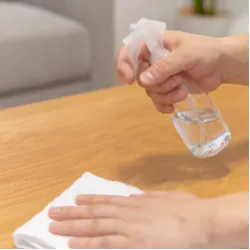 To get the most out of ravensara aromatica's powerful microbe-fighting properties, try this cleaning spray for hard surfaces.
Add the following to a 12-ounce spray bottle:
10 drops of Lemongrass Essential Oil
15 drops of Ravensara Essential Oil
6 drops of Lavender Essential Oil, Kashmir
1/2 cup white distilled vinegar
Top with distilled water, and shake before use. For different scents and a boost of cleaning power, consider Frankincense Essential Oil, Serrata, or Bergamot Essential Oil instead of lavender.
Spray on countertops, refrigerators, faucets, microwave handles, and other frequently used surfaces, to prevent the spread of illness-causing microbes.

Antiviral
Ravensara Essential Oil is an important oil to have in your home apothecary when experiencing viral infections, such as colds, flu, herpes, and shingles.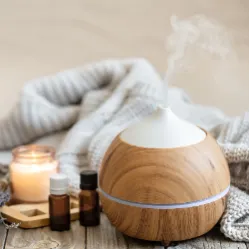 Creating a spray cleanser, like the one above, can help reduce the likelihood that you'll contract spreadable viruses. When you already have the virus and it reactivates (such as with shingles) diffuse Ravensara Essential Oil to soothe symptoms and lessen their impact.
Add the following to distilled water in a diffuser:
5 drops of Ravensara essential oil
2 drops of Forest Essential Oil Blend
2 drops of Rosemary Essential Oil, Verbenone
Diffuse throughout the day.

Shingles and Cold Sores
As mentioned above, Ravensara is a powerful antiviral oil. If you're experiencing a shingles outbreak, apply diluted ravensara directly on blisters.
Blend Ravensara, Tea Tree Essential Oil, Australian, and a carrier oil, like coconut oil or Jojoba Carrier Oil. Apply gently to blisters or cold sores. Not only will it dull the pain but it will also speed recovery.

Allergies, Coughs & Breath Support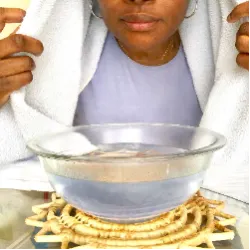 Ravensara Essential Oil is ideal for wintertime respiratory issues. Its anti-fungal properties make it ideal for allergies caused by yeasts or molds. It can clear the lungs and open breathing passages, as well as soothe coughs.
For a soothing cold remedy, try the following recipe:
6 drops of Ravensara Essential Oil
2 drops of Breathe Essential Oil Blend
2 drops Lemon-Scented Eucalyptus Essential Oil.
Add to steaming water and inhale several times daily.
Before bed, add the same ingredients (minus water) to ½ oz of unscented balm and rub on the chest to alleviate coughing during the night.
If you're on the go, simply add two drops to your palms. Rub them together, bring them to your nose and face, and inhale deeply. Not only will it offer coughing relief and respiratory support, but its antimicrobial properties will cleanse your hands, reducing exposure to further sickness.

Pain Relief
Ravensara Essential Oil is a fantastic natural pain-relieving tool to have in your home pharmacy. Blend it with other pain-relieving, skin-soothing essential oils, such as Chamomile Essential Oil, Blue, and Wild Lavender Essential Oil for a beautifully-smelling pain relief massage oil.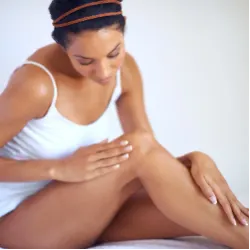 Add several drops of ravensara, chamomile, and lavender to a carrier oil, such as Jojoba Carrier Oil or Argan Oil. Massage into skin as needed to comfort muscles and joints.
Consider a pain relief spray for hard-to-reach places, like your back. Simply add the massage oil to a spray bottle and dilute it with water. (You may need additional essential oil now that it's been diluted further.) Shake before use and spray on affected areas.
If you wish to gain a deeper understanding of natural medicine and receive personalized botanical and medicinal advice from David Crow, an expert in Chinese, Tibetan, Ayurvedic, and Western medicine, schedule a one-on-one consultation.
Stay connected with news and updates!

Join our mailing list to receive the latest news and updates from our team.
Plus — when you sign up for our mailing list right now, you'll receive a free copy of
David's eBook Aromatic Intelligence: The Healing Power of Essential Oils.


We hate SPAM. We will never sell your information, for any reason.